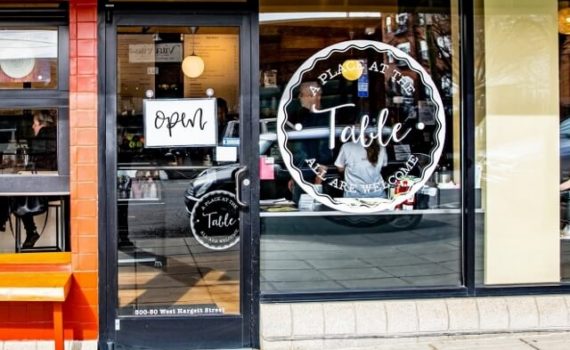 We were proud to be the HVAC contractor for A Place at the Table, a new cafe in downtown Raleigh. We handled the HVAC service and planned maintenance. Riley-Lewis were the General Contractors. A Place At The Table opened up in January 2018. 
About At A Place at the Table
Raleigh needs a place where all people can EAT. Raleigh needs a place where COMMUNITY can be built. Why does Raleigh need such a café? We have soup kitchens, we have nice restaurants, but we do not have a place that brings us all together to eat.
Mission: We provides community and healthy food for all regardless of means.
Vision: January 8th, A Place at the Table opened as a pay-what-you-can cafe at 300 W. Hargett St in downtown Raleigh. We are a welcoming and inviting space that provides an opportunity for all people to come and experience conversation and community while enjoying an excellent, fresh, and healthy meal. People long for a community, a place to fit in, a place to feel welcome, and a place to be a part of something bigger than just themselves.
A Place At The Table is located on 300 W Hargett St #50, Raleigh, NC.
About Riley-Lewis General Contractors
Founded in 1997 by Sean Riley and David Lewis, Riley-Lewis General Contractors specializes in commercial renovation and upfit of office, medical, dental, sports, retail, restaurant, and residential condo space.
With a focus on integrity, teamwork and commitment to their clients, Sean and Dave have built a reputation for achieving high quality standards and providing exceptional client service.